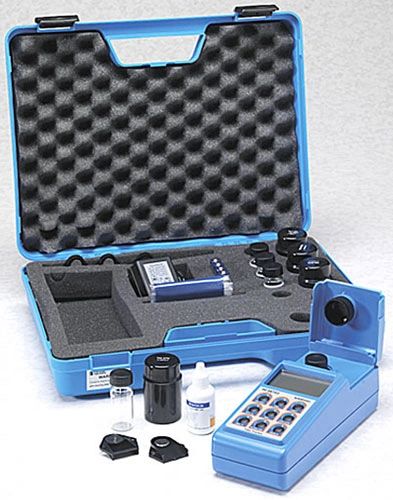 HANNA Turbidity Meter
This Hanna turbidity meter uses a tungsten light source for consistently reliable readings and feature an EPA compliance reading mode. The backlit LCD is easy to read. The light detector used for turbidity readings is a silicon photocell. Free and total chlorine readings are given by a silicon photocell with 525nm narrow band interference filters. Data you have logged can be downloaded through either the RS-232 or USB interfaces. The Tag Identification System (TIS) allows you to record the time and place at unlimited specific measurement locations. Just add iButton® tags near your sampling sites and then use the Meter to identify and authenticate logged data by touching the iButton to the connector on the Meter. Use the Windows® Software to sort or filter all collected data using different criteria-such as specific sampling location, parameter, date and time intervals or fixed range-to filter measured values. Data can be plotted in a graph, exported to other programs or printed. Compliance: USEPA 180.1.
To meet EPA reporting requirements these instruments have an EPA compliance reading mode. HI 98703 meets all EPA requirements with regards to the Standard Methods for Turbidity Measurements. Turbidity is measured up to 1000 NTU. Depending on the measured sample and required accuracy, users can select normal measurement, continuous measurement or signal averaging. Reliable performance of the instrument is validated using Hanna's exclusive Cal Check® system and our ready-made, NiST traceable chlorine standards. For turbidity, a two, three or four-point calibration is available using pre-set or user defined standards. Frequent Calibration isn't necessary as the system compensates for variations in the intensity of the light source. The instruments' Good Laboratory Practice functions allow traceability of calibration conditions including the time, date and last calibration points. At startup, the meter displays the percentage of remaining battery life. A 'low battery' warning message is also displayed on the LCD to avoid unexpected battery failure. This instruments is equipped with backlighting. The current date and time can be displayed on the LCD.
Includes:
Five sample cuvets and caps
Three calibration cuvets for turbidimeter
Two calibration cuvets for colorimeter
Reagent powder packets for free and total chlorine
Silicone oil
Five tag holders with tags
Scissors
Four batteries
AC adaptor
Carrying case
Specifications:
| | |
| --- | --- |
| Range: | 0.00 to 9.99; 10.0 to 99.9 and 100 to 1000 NTU |
| Range Selection: | Automatic |
| Resolution: | 0.01 NTU from 0.00 to 9.99 NTU; 0.1 NTU from 10.0 to 99.9 NTU; 1 NTU from 100 to 1000 NTU |
| Accuracy: | ±2% of reading plus 0.02 NTU |
| Repeatability: | ±1% of reading or 0.02 NTU, whichever is greater |
| Stray Light: | < 0.02 NTU |
| Typical EMC Deviation: | ±0.05 NTU |
| Light Detection: | Silicon Photocell |
| Method: | Ratio Nephelometric Method (90°), ratio of scattered and transmitted light; Adaptation of the USEPA Method 180.1 and Standard Method 2130 B. |
| Measuring mode: | Normal, Average, Continuous |
| Turbidity Standards: | 1, 10, 100 and 750 NTU |
| Calibration: | Two, three or four-point calibration |
| Light Source: | Tungsten filament lamp |
| Lamp life: | Greater than 100,000 readings |
| Display: | 60 x 90 mm LCD with back light |
| Logging Memory: | 200 records |
| Serial Interface: | USB 1.1 or RS 232 |
| Environment: | To 50°C (122°F); max 95% RH non-condensing |
| Power Supply: | (4) 1.5V AA alkaline batteries or AC adapter |
| Auto Shut-off: | After 15 minutes of non-use |
| Dimensions: | 224 x 87 x 77 mm (8.8 x 3.4 x 3.0") |
| Weight: | 512 g (18 oz.) |